Major and great news
Boy have we got news for you  – major and great! Event Masters recently acquired a friendly competitor in our industry: Murder Inc. Owner Luk Matthijs decided to pass on the torch after 30 years of commitment to 'murdering', making thousands of 'victims'. Murder Inc. is the reference in murder-mystery dinners. So far for the major news. The great news? We've hired a new employee, Kristien Van Crombrugge, to ensure the smooth operation of our on-going and new projects. Kristien is not only brilliant at organising events … she's killin' it!
One can call Luk Matthijs, the founder of Murder Inc., the pioneer of murder-mystery dinners. He launched his company way back in 1989 and developed over 25 formats, making him the reference in the business. For many years, he organised most events at his own Sint-Jansbergklooster in Zelem (Limburg). Even though Murder Inc. is one of the oldest event agencies in Belgium, its concepts are far from stuffy old. Luk Matthijs: "A great script is of all times – our customers' feedback is the proof of that."
Luk writes his own scripts, which take his guests on a memorable trip to the world of murderous intrigues, absent-minded waiters, bloodthirsty vampires, noble heirs, friendly Fathers and mysterious quests.
Luk: " I was looking for a partner who believed in my 'baby' and would 'mother' it to successfully continue my concepts."
We hit it off immediately: Event Masters firmly believes in Murder Inc.'s concepts. Furthermore, it's a fitting complement to our portfolio. The starting point of a Murder Inc. activity is simple and straightforward: you've got actors, a story and guests that gather unsuspectingly for a nice lunch or dinner.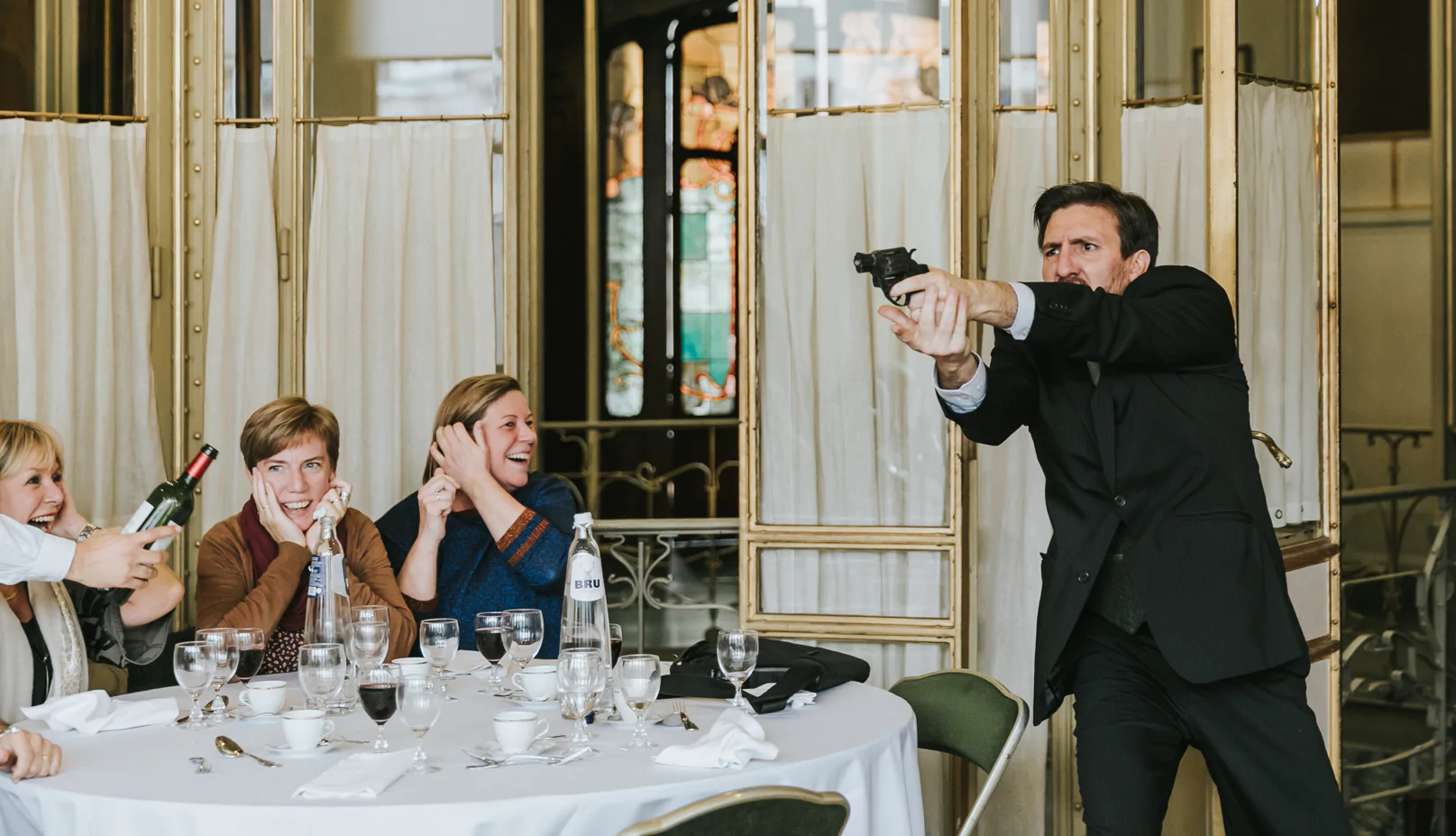 "Murder Inc. is the reason why we've never organised murder dinners ourselves. We couldn't have done a better job than Luk. What makes Murder Inc.'s concepts so unique? Its unbeatable plots and the actors bringing the characters come to life! Needless to say we're thrilled that Luk will continue to write stories for us."
Bert Knuts,
CEO, Event Masters