Elk team bepaalt zijn eigen sterktes
QuickFire is een snelle en energiek tablet game. De opdracht is om zoveel mogelijk challenges binnen een bepaalde tijd te volbrengen.
Specifications
Amount of people:
10 tot 1000
Location:
: In uw gebouwen of een locatie naar keuze
Elk team krijgt een iPad en een box vol opdrachtenmateriaal. Met de keuze tussen mentale, creatieve en fysieke opdrachten, kiest elk team zelf welke opdrachten ze willen volbrengen. Met keuze tussen 3 moeillijheidsgraden, bepaalt u zelf uw inzet en mogelijke puntenwinst.
Wie durft de lat hoog genoeg te leggen?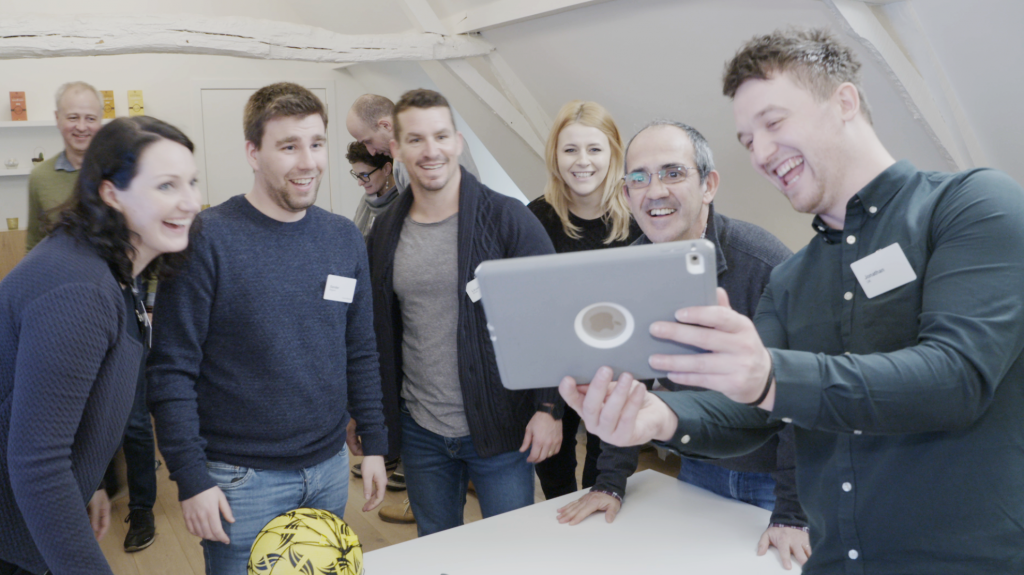 QuickFire is pure groepsdynamiek: soms 100% teamwerk, af en toe voor de solitaire denker de grappigste acteur of de sportiefste van de klas! QuickFire zit boordevol fun, strategie en teambuilding! Welk team scoort de meeste punten?
Quickfire soccer en Quickfire Festive
Quickfire is volledig aanpasbaar aan uw bedrijf. We kunnen deze tabletgame helemaal personaliseren naar wens. Met challenges en vragen die we in samenspraak opstellen. Of wat denk je van een Quickfire in voetbal-of Kerstthema?
Bereid je voor op een WK of EK met Quickfire!
Wie scoorde er op het WK van '94 tegen Duitsland? Of welke vrouw hoort bij welke speler? Maak een foto van de perfecte goal, wissel om ter snelst van truitjes of doe Ronaldogewijs een uitdagende truc met de bal. Het is maar een greep uit de challenges die de q-Quickfire soccer tot een competitieve en actieve teambuilding maken.
Kom in de kerstsfeer met Quickfire Festive
Wie meer van ludieke activiteiten houdt, kiest voor een Quickfire Festive. Quickfire is een leuke mix van mentale, actieve en creatieve uitdagingen. Elk team ontvangt van de Kerstman-himself- een hele hoop materiaal en een tablet vol met feestelijke uitdagingen. Alle uitdagingen vragen een andere inzet en hebben een andere moeilijkheidsgraad. Naarmate de tijd verloopt, zal de 'Christmas Spirit' alleen nog maar toenemen!