Looking for the ideal end-of-the-year activity?
As the end of the year approaches, it is often a time when connection takes center stage. It is also the perfect time to refresh your company's core values and to strengthen the bonds between colleagues. Give them the ultimate end-of the-year gift: a team building event, for example!
Just for this occasion, we put some of our regular concepts in a winter jacket, so you can make your end-of-the-year event a success.
After approximately 2 hours:
Your employees will have tons of renewed energy
You will feel more connected than ever
You will have laughed really hard and
You will be looking forward to 2022 with more confidence!
So give your team the ideal end-of-the-year activity.
Beat the Box – Rescue Santa
Beat the Box Rescue Santa is a festive adaptation of one of our most popular teambuilding events: Beat the Box. A mobile escape game full of puzzles in a festive theme. Teams are given a limited time to crack a special code and stop the countdown. Free Santa and save Christmas!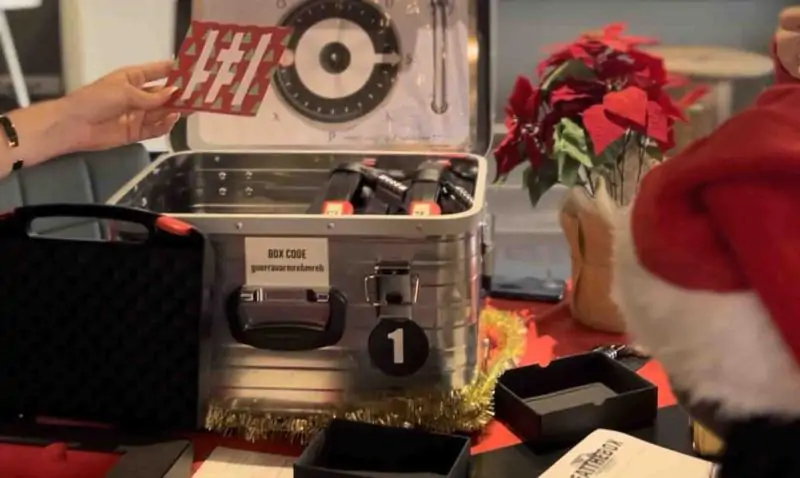 iBuild Festive
At iBuild Festive, teams are going to recreate sleds and toys without looking at the original plan. The perfect activity to promote networking and communication within your team. Your team members will be given a certain role in the communication chain and have to learn to pass on and receive messages clearly in order to be able to recreate the model perfectly.
Battle of the Tables – Festive edition
We'd like to talk a little bit more about a traditional end-of-the-year dinner, however this one has festive questions and challenges in its theme! Battle of the Tables is THE interactive dinner game that makes full use of iPads and digital technology. A very flexible, completely personalized and meticulously designed quiz to promote team spirit over a fantastic dinner! Our master of ceremony will make sure the audience is excited and will present everything smoothly.

A traditional end-of-the-year dinner, but not really!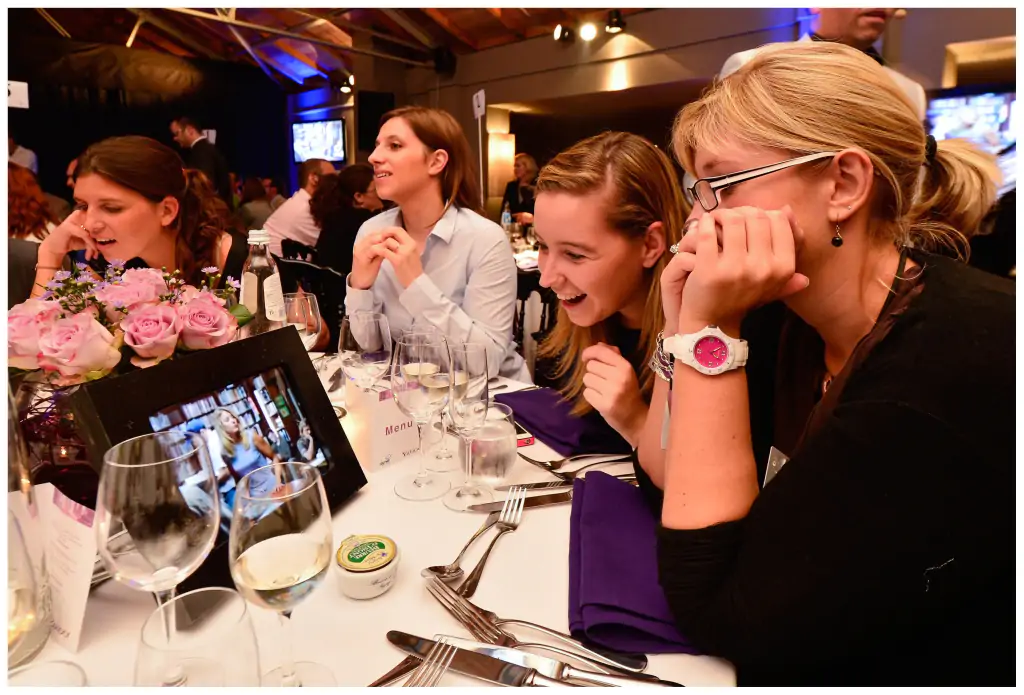 Race Around the World Festive
You can also organize a festive activity online. With colleagues who work from home or with colleagues from other countries. With Race Around the World you discover the world from the comfort of your own chair.

Race Around the World is a unique and interactive virtual team building event that challenges your team to find their way around the world as quickly as possible. During this festive edition we divide your team into Santa Claus and his Elves. They work together to complete as many challenges associated with a specific continent as possible. Photo and video assignments, creative team challenges with everyday household items and multiple choice questions will create plenty of engagement and creativity!
Crescendo Festive
Music is an absolute must during the holiday season. But what if you made this music yourself…

Do you think it is impossible to learn an instrument in an hour and a half? With our Crescendo activity, your employees will learn to play the violin using simple techniques. In times of distance, this musical team building event is the perfect connection activity to create wonderful results together with your colleagues. Your employees can maintain sufficient distance while staying seated and together they will create a result that sounds harmonious.

Could this be perfect to surprise someone from your company with a performance?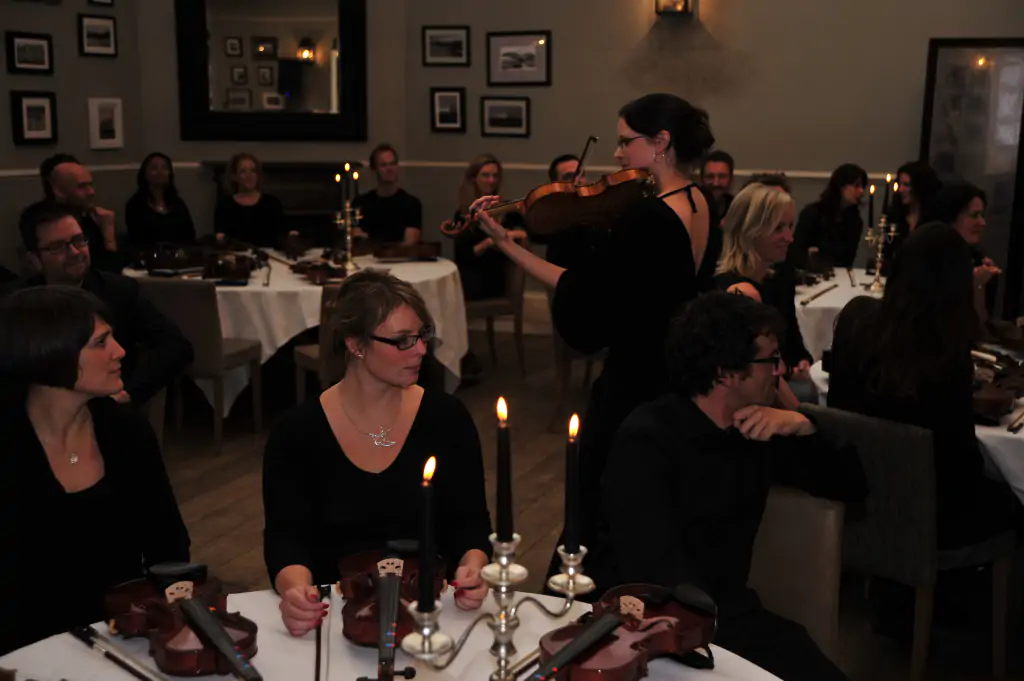 Quickfire Festive
Those who prefer fun activities should opt for a Quickfire Festive. Quickfire is a fun mix of mental, active and creative challenges. Each team receives a whole bunch of materials and a tablet full of festive challenges – from Santa Claus himself. Every challenge requires a different type of effort and has a different level of difficulty.

This team building can also be organized online. The participants take turns leading their teams and face the festive challenges together!

As time passes, the party atmosphere will only increase!
Masterpiece Festive
The end of the year is traditionally a time of reflection and togetherness. Let your teams translate their experiences of the past year into a collective work of art with Masterpiece Festive. The teams use a "collaborative approach" and must ensure that the end result is a success by painting part of the artwork and coordinating it perfectly to match the end result.

Perfect for the creative teams among us!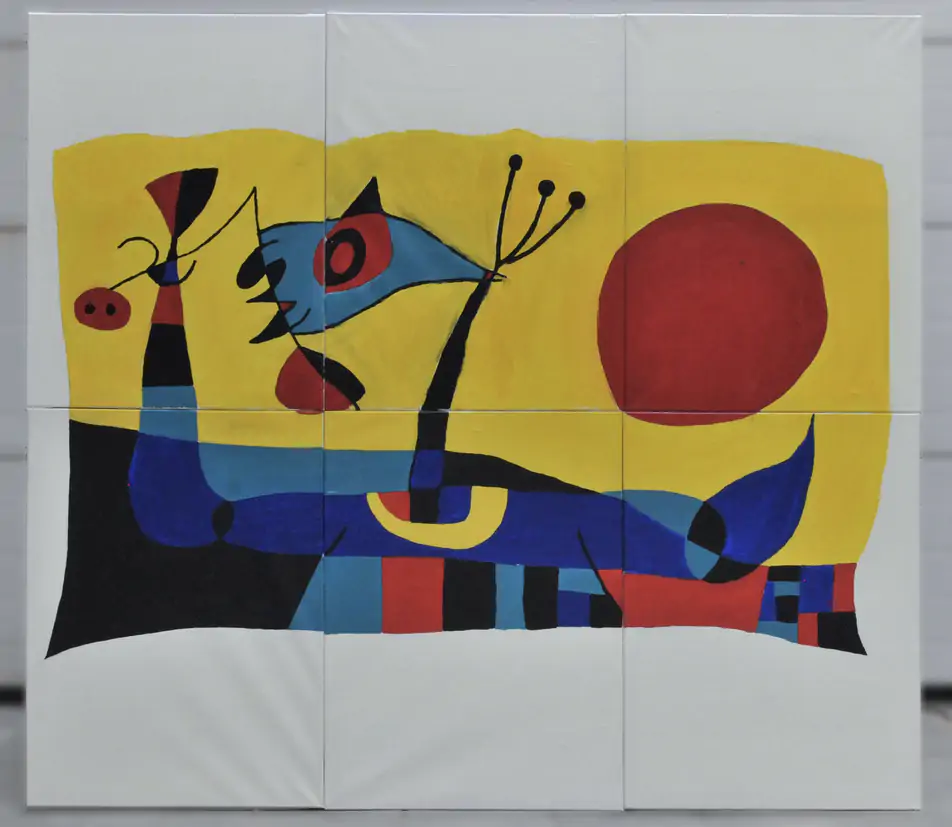 Would you like something extra for your end-of-the-year activity? A live band, a dinner, an original (hybrid) location, festive boxes you can send out? We will be happy to help you find the best solution!
Book your original end-of-the-year activity now!